Community-Building through the Tagbanua Indigenous Peoples' Summit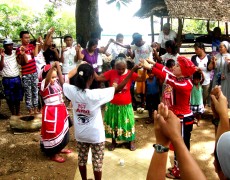 Engaging the Indigenous Peoples (IPs) in different projects and hearing them out is a valuable opportunity to nurture the values of true community.  It is by deeply listening that we understand the lives and larger context of those around us.
In celebration of IP Month, the Jesuit IP Ministry of Culion, Palawan led an overnight event on October 15-16, 2016 to create a venue for indigenous Tagbanua leaders as well as partner organizations to dialogue and share each others' points of view. It was held at Sitio Chindonan-Balite, Barangay Libis in Culion with the theme, Pagkerisen-kesin, which is Tinagbanua for "gathering."
The IP Summit was participated in by Simbahang Lingkod ng Bayan (SLB), Sisters of the Saint Paul of Chartres (SPC), Cartwheel teachers and community workers, Cartwheel Foundation International, Apostolic Vicariate of Taytay-Social Action Center (AVT-SAC), local municipality representatives, and Tagbanua leaders from Sitios Alulad, Chindunan, Cagait, Bulok-bulokan and Mampok. Community members gladly shared fish and lato or seaweed as their contribution for the activities.
Its main objective was to facilitate a dialogue between stakeholders and discuss the current socio–cultural, economic status of the Tagbanua, as well as the desired growth in their communities.
The IP elders gathered to listen and share insights in response to the guide questions prepared by the organizers. The discussion was divided into different sessions. They discussed various relevant concerns; here are some important views they expressed:
Fernan Ladao of Sitio Cagait, a farming and fishing community, said of literacy and cultural identity–
"Noon 'di kami nakapag-aral. Kaya ngayon, pinagtiyatiyagaan naming makapag-aral ang mga anak naming kahit kaunti, para 'di sila maloko. Tinuturuan naming silang huwag ibalewala ang kultura; kahit walang masyadong pinag-aralan, huwag dapat bibitiw sa panlulupa."
("We were not able to go to school before. That is why we are now working hard to send our children to school, even for just a while, so they will not be abused. We teach them not to take for granted our culture; even if we receive very little education, we should not let go of our farming practices.")
Linda Abella from Sitio Chindonan, reminded her fellow Tagbanua,
"Huwag ikahiya ang pagiging Tagbanua. Dapat ito ay ipaglaban dahil parehas lang tayong nilikha at nakatira sa lupa."
("Do not be ashamed of being Tagbanua. This should be fought for because we are all the same in being created and living on land.")
Community leaders identified some of their common needs, as well as specific action points they could already initiate on their own. The summit gave opportunity for learning how to collaborate with other institutions like the local barangay, to coordinate additional community assistance whenever necessary. The same leaders expressed gratitude to their organizations continuing fruitful development work in their respective areas.
Representatives from local stakeholder organizations listened to the Tagbanua directly as they expressed issues and challenges they faced. Said representatives appreciated the opportunity to reflect on the impact of their service and recognized other gaps that could be further addressed.
Community representatives agreed to come together more regularly and agree on specific tasks they can commit to taking on, as part of their community development efforts. Partner organizations took note of the concerns of Tagbanua leaders to explore possible interventions with their respective teams. Representatives from the local government units mentioned they would follow through by taking into consideration the issues brought up as they draft their Community Development Plans.
All participants look forward to a succeeding similar event where there is open and honest dialogue between concerned groups in response to pressing issues, united for the development of the Tagbanua communities.