Training and Learning Exchange 2016 for Cartwheel Teachers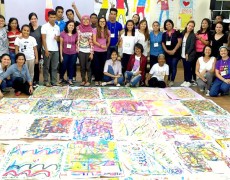 Teachers and community organizers from all of Cartwheel Foundation, Inc.'s present partner areas were gathered for a two-week training workshop on May 11-19, 2016 in Muntinlupa City. In collaboration with The Learning Child School (TLC) and MAGIS Creative Spaces, "Teachers Training and Learning Exchange 2016" was developed for continuing personal and professional growth for community workers serving indigenous learners in Lucena, Quezon; Culion, Palawan; Mampang, Zamboanga; Miarayon, Bukidnon; and Sinakungan, Agusan del Sur.
Improved competencies in teaching methodologies, community assessment, and psychosocial integration including self-care through expressive arts were given focus in the various parts of the training sessions.
Teachers reach out to teachers
Pre-school teachers from TLC facilitated learning sessions on topics in response to Cartwheel teachers' expressed needs. As fellow practitioners of Early Childhood Development, they drew from experience in their presentation of best practices on learning assessment and special education, classroom management, and reading and writing instruction.  Mary Anne Alfonso (fondly called "Teacher Anne" by many), chairman and founder of TLC, also took time to share with the teachers simple yet practical points in relating to children with both sincerity and joy.
During the same week of May 11-13, Cartwheel teacher-participants were given opportunity to observe classes included in TLC's Pre-School Enrichment Program. Simultaneously, individual brain mapping by Mindworks and art assessment sessions were facilitated to build on self-awareness and emphasize the need for the teachers' self-care.
Setting up for sustainability
Teachers from each of the five current partner areas of Cartwheel put their heads together in assessing their own home communities' capacity for program sustainability. Led mainly by Cartwheel Programs Consultant Veronica Tarabi with the help of Programs Officer Charissa Lopez, sessions on May 14 aided the teacher-participants in identifying various factors that may either hinder or facilitate preparations for the communities' eventual full ownership of existing educational programs. Practical action steps were also drawn up collaboratively to help guide teachers in gradual process of ensuring program sustainability.
The arts for healing, learning, thriving
Innovative arts-based approaches were shared with Cartwheel, TLC, Cartwheel Foundation International, and MAGIS team members as part of THRiVE (Trauma-Informed Healing and Resilience strengthening in Vulnerable Environments) workshop on May 16-19. With lead facilitator Gina Alfonso, licensed art therapist and founder of Cartwheel, the expressive arts activities of THRiVE sought to promote healing, stress management, and learning in response to the challenges students may bring to the classroom. The workshop also encouraged the teachers to nurture a space within — attending to their own needs through self-care and the creation of "circles of empathy," essentially drawing from the premise that one cannot give what one does not have. In nurturing classrooms of peace, they learned that teachers and caregivers alike are to mindfully care for their peace within as well.
"Masaya akong natutunan kong i-express ang aking sarili sa positibong paraan," says Arjane Sotto, Talaandig Young IP Leader graduate from Pamulaan and current Cartwheel volunteer, "masaya akong marami akong naging kaibigan through arts." ("I am happy I learned to express myself in a positive way; I am happy I gained many friends through the arts.")
Indeed, the many other teacher-participants resound her sentiments; they give value to all the many insights from the sessions and in turn, are sure to be taken back to the communities in practical application.  But they expressed gratefulness most of all for the gift of new friendship – finding encouragement and inspiration from fellow teachers to keep on thriving in joyful service within their own communities.