Valuing Self-Care: Teachers learn through the arts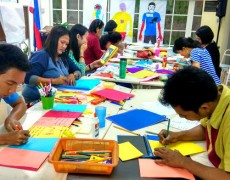 "Healing may be a way of relaxing and enabling one's mind and body to adjust. Art is what we often use as it brings joy to everyday life."
Cartwheel community workers from its different partner areas were all gathered from May 16-19 as participants of THRiVE (Trauma-Informed Healing and Resilience strengthening in Vulnerable Environments), a workshop on psychosocial integration through the expressive arts. Building on the premise that one cannot give what one does not have, activities encouraged self-care among the teachers–essential in nurturing classrooms as safe spaces for learning and inner healing.
Noynoy Agbongan, indigenous Higaonon from the mountain community of Sinakungan, Agusan del Sur, flew to Manila for the first time to attend the workshop. He often appeared timid within their bigger group, showing a calmer, more quiet countenance compared to the rest. But he shone in leading everyone to sacred chant in the Binukid language, as is practiced by the tribal community of which he is part. Many were also pleasantly surprised at the energy and dynamism he showed during his teaching demonstration towards the end of the training.
In his own words, Noynoy speaks of how he found value in the experience:
"Ang nakatabang sa akong kaugalingon sa nahitabo nga Training ng THRiVE, dako kaayo ang akong pagpasalamat kay nahatagan ko og kahibalo kung unsaon pag-control sa imo kaugalingon, og nahatagan pud ko og kahibalo kung ang angay buhaton pag adunay moabot nga problema sa imong kinabuhi. Ang akong na-appreciate sa nahitabo nga training nga THRiVE mao ang 'healing' tungod kay ang healing makatabang or magamit nimo kong adunay kalit moabot nga problema. Ang healing mao ang isa nga strategies kung unsaon nimo pagrelax o pag-adjust sa imong lawas o hunahuna. Ang topic nga kanunay magamit mao ang art. Tungod kay ang art makahatag og kalipay sa imo life."
("What I found helpful for myself from the THRiVE Training, what I am thankful for is that I was able to figure out ways on how to control my own self. And that I also was given insights on what to do whenever faced with difficulties in life. I am most proud of the healing part, among all the activities during THRiVE because I see how personal healing can truly help or be of use whenever there are problems. Healing may be a way of relaxing and enabling one's mind and body to adjust. Art is what we often use as it brings joy to everyday life.")
Noynoy is currently a grantee under Cartwheel's Young Indigenous Peoples (YIP) Leaders Program. He is enrolled in  Agusan del Sur State College of Agriculture and Technology, taking up Agroforestry. Once he finishes college, he is determined to return to his community and share innovative farming practices through teaching.
—
Read more about activities during THRiVE Workshop here.