#PusongKatutubo: Celebrating Filipino inherent strengths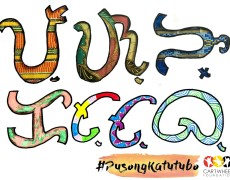 The richness of our own indigenous cultures ought to be shared by all—not just stuck in museum glass boxes or dusty old textbooks.
August 9 (Wednesday) is the International Day of the World's Indigenous Peoples as declared by the United Nations, and the National Day of Indigenous Peoples in the Philippines. Share in the celebration by highlighting what is inherent and indigenous to YOU as Filipino. Do so by learning to write your name in baybayin, an indigenous Filipino pre-colonial script. Join our #PusongKatutubo campaign to share appreciation for the Filipinos' own vibrant indigenous heritage!
Here's how you can participate:
1) Create your own baybayin name art following the guide from Baybayin Buhayin below.
2) Post a photo of your baybayin name art on Facebook and/or Instagram with the status: "Ako si (your name). Ako ay ___________," sharing what makes you Filipino and proud. Don't forget to include #PusongKatutubo, #WorldIndigenousPeoplesDay, #WeAreIndigenous, #CartwheelFoundationPH. 
3) Tag as many friends as you can! Encourage them to continue this chain by sending this link of instructions.
4) Start on August 9 until August 19, and together, let's amplify our voices for our Indigenous Peoples.
Mabuhay ang Katutubong Pilipino, palakasin ang pintig ng Pusong Katutubo!