Sharing IP Stories: Learning exchange through advocacy talks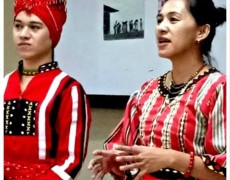 "Even with Filipinos' diversity in culture—with that of indigenous groups as distinctly unique—common values and even challenges remain shared by the nation."
Cartwheel Foundation, Inc. (Cartwheel PH) is grateful to have been given several avenues to share its knowledge and stories in engaging with its many Indigenous Peoples (IP) partners. Aside from the organization's community-based projects and initiatives, it also seeks to spread its advocacy by deepening the understanding of the general public on the life ways of IPs, as well as the richness they bring into the Filipino shared culture.
On a global scale, Cartwheel PH spoke at the Asia-Pacific Regional Network for Early Childhood (ARNEC) Conference in Angkor Wat, Siam Reap, Cambodia on March 1-3, 2017. The conference focused on the importance of holistic interventions for early childhood development, with Cartwheel PH's talk being specifically under the subtheme, "Building the Child's Resilience through Multi-Stakeholder Collaboration in Education and Health."  Cartwheel PH Executive Director Pia Ortiz-Luis and Cartwheel International Country Manager Coleen Ramirez-Panahon shared the foundation's enhanced Early Childhood Development approach, with the integration of resilience-building and health-seeking practices piloted with three Tagbanua communities in Culion, Palawan.
From the global platform ARNEC provided, Cartwheel PH was also given the opportunity to share its advocacy to a younger audience at Ateneo de Manila's Talakayang Alay sa Bayan (TALAB) talks on February 21, 2017. The learning session Cartwheel PH led was entitled, "Pusong Lumad: Connecting to Indigenous Filipino Roots." Cartwheel PH team members Bricks Sintaon and Berose Tacal, shared their story as Talaandig growing up in Miarayon, Bukidnon. Through an interactive format, Cartwheel PH also showed that despite Filipinos' diversity in culture—with that of indigenous groups as distinctly unique—common values and even challenges remain shared by the nation.
Cartwheel PH also shared its advocacy to Lasallians in De La Salle University's AIESEC Global Goals Week on January 10, to the preschool students and parents of The Learning Child and MAGIS Creative Spaces during their Family Day on February 4, to the students of Assumption College, San Lorenzo Makati on February 16, to the students of University of the Philippines National College of Public Administration and Governance (UP-NCPAG) in "Tayo Na, NCPAG!" Forum on March 2, and to the Education majors of De La Salle University – Dasmariñas (DLSUD) in "EduKatutubo: Teaching Indigenous Communities" on March 23.
Patricia Cortez, among the participants of the advocacy talk at DLSU-D, had this to say:
"EduKatutubo with Cartwheel PH enlightened the young minds and hearts of pre-service teachers. It was an interactive seminar that engaged future educators through songs, rituals and pedagogy in teaching indigenous communities. We were ignited and filled with ideas, pledging to become passionate educators for diverse individuals."
May we all continue advocating for the culturally relevant education of our indigenous brothers and sisters!
—
Cartwheel PH would like to thank Ranielle Evangelista for this article.