Participation at the Calamian Volunteer Health Workers' Convention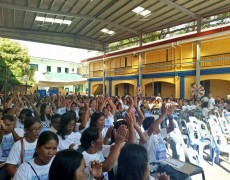 by Ranielle Evangelista
Representatives from Cartwheel Foundation, Inc.—Toni  Bacsain (Programs Officer for Health), Lilia Diaz (community teacher) and Jojo Zapanta (community development facilitator)—were among the resource presenters at the 11th Volunteer Health Workers' (VHW) Convention on May 18, 2017 at the Loyola College of Culion, Palawan. With the theme, "Volunteer Health Workers, Kaagapay Tungo sa Progresibo at Inklusibong Kalusugan ng Calamian" (translated as "Volunteer Health Workers, working hand-in-hand towards progressive and inclusive health in Calamian"), the 600 participants of the convention came from four different municipalities in Palawan; namely, Busuanga, Coron, Culion, and Linapacan.
The convention was four days long, packed with team building activities, intermission numbers from the VHWs in the different municipalities, and informative talks from experts on the field. While other speakers in the convention shared specifically about health-related topics such as childcare, nutrition, first aid training, family planning, and sexually transmitted diseases, Cartwheel shared its experience in engaging with partner Tagbanua communities and knowledge about the Filipino Indigenous Peoples' national situation.
Cartwheel, together with development partner Cartwheel Foundation International, has recently integrated health initiatives into their community engagement program in Culion, Palawan due to an alarming number of child and mother deaths. The initiative, entitled Project LUSOG, began last 2016, with extensive research on the community's health situation. Currently, Project LUSOG is focused on health education and health partnerships. CFI's primary partners for Project LUSOG are existing government institutions within the area, such as the Department of Social Welfare and Development (DSWD), Department of Health, rural health centers, and local government units.
After the talk, a number of VHWs went up to our speakers to share their own positive experiences with IP communities. There were also IP VHWs present who told our speakers in their own dialect that they were proud of being Tagbanua and that they were grateful that such sentiments were shared to non-IPs.