National IP Leaders' Meeting towards Zero Extreme Poverty 2030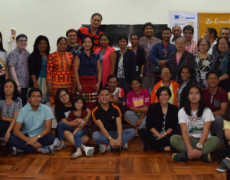 by Ranielle Evangelista
On May 29-31, 2017, the Zero Extreme Poverty (ZEP) Cluster of Peace and Human Security brought together Indigenous Peoples (IP) leaders from all over the country to consolidate and finalize a National IP Agenda, along with learning more about the issues present in the country. It was held in Ortigas Center, Pasig City. Prior to this event, five regional consultations had been done to seek out what the different indigenous communities wanted for their development. The IP Agenda sought out to be done for and by the indigenous peoples, and not just their support groups.
The Zero Extreme Poverty (ZEP) 2030 movement was a result from the Poverty Summit in 2015 with the theme, "Building Pathways in Reducing Poverty and Inequality," and aims to holistically eradicate poverty and inequality in the country. The movement, made up of civil-society organizations and sectors, envisions "a Philippines where every Filipino enjoys the necessary goods that define and sustain human dignity, life, security, and engaged citizenship."
Aside from the points discussed in the regional agendas, key speakers were invited to talk and facilitate discussions about the different growing concerns in the country. These topics included the possibility of charter change and the queries on federalism, the Duterte administration's Philippine Development Plan, updates regarding the Comprehensive Agreement on Socio-Economic Reforms, and lastly, the human rights situation in the Philippines.
Workshops were conducted after the speakers' talks and updates, wherein the participants were given an avenue to discuss these issues and voice out their concerns. The IP leaders present were empowered, shared their stories, and emphasized their right to self-determination. The workshops deepened the understanding of the participants as current realities were brought to light — very much present in the lives of the different IP communities.
The IP leaders expressed their gratitude for the sector coming together, along with the support groups for enabling and organizing such an event to happen. With everyone coming together, there are high hopes for a more inclusive development with the indigenous communities. The leaders are now left with the task of relaying back to their communities their learnings from the past three days, and to actively move towards a better future for the entire sector.
"Salamat sa lahat ng grupo na bumuo dito. Bilang IP, ang aking obligasyon ay mas malinaw na ipararating sa ating kapwa katutubo kung ano ang ating sinusulong para malinaw rin ang ating agenda sa kanila." – Remedios "Odic" Marquez