Lessons in Resilience-building: Sharing at Asia-Pacific ECD Conference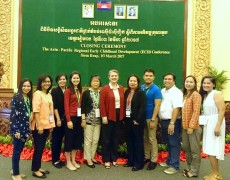 Cartwheel Foundation, Inc. participated in the Asia-Pacific Early Childhood Development (ECD) Conference organized by the Asia-Pacific Regional Network for Early Childhood (ARNEC) held in Siem Reap, Cambodia from March 1 to 3, 2017.  Cartwheel Executive Director Pia Ortiz-Luis and Cartwheel International Country Manager Coleen Ramirez-Panahon presented a paper entitled, "Building the Resilience of the Indigenous Child through Multi-Stakeholder Collaboration in Education and Health." The presentation focused on sharing lessons learned from implementing THRiVE (psychosocial support for teachers, learners, and community members) and LUSOG (health research and education) for Tagbanua partner communities in Culion, Palawan. The conference also opened up opportunities for Cartwheel to network and explore areas of convergence with early childhood development practitioners both in local and global settings.
Cartwheel is very grateful for the initiative and support from Gina Alfonso and Cartwheel International.
—
Access Cartwheel's presentation slides here.