Metrobank Foundation Supports Education for Higaonon Learners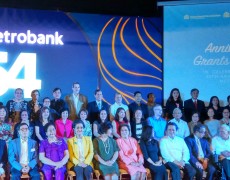 Cartwheel Foundation, Inc. was one of 35 organizations awarded by Metrobank Foundation, Inc. (MBFI) during their 54th Anniversary Grants Turnover Ceremony on September 5, 2016 at Metrobank Plaza, Makati City. The grant was given in support of the Early Childhood and Elementary Education (ECEE) Program that focuses on facilitating access to quality and culturally relevant learning for 54 indigenous Higaonon children of Sinakungan, Esperanza, Agusan del Sur for school year 2016-2017.
In its 7th year of direct implementation, Cartwheel now facilitates coordination with various local stakeholders for the ECEE program's complete turn-over envisioned by 2018. Capacity-building among teachers, mobilizing community members, and establishing effective work dynamics among local implementing partners are among the preparations currently being undertaken to ensure smooth transitioning for said turn-over. Synchronizing efforts of the local district's Department of Education (DepEd) and the Indigenous Peoples' Apostolate (IPA) of Butuan is among the major steps toward equipping the community with necessary mechanisms for continued program sustainability.
The rehabilitation of the community "tologan," a special gathering area with cultural significance for the Higaonon, is one of the program's unique components. This is envisioned to benefit not only the learners, but all the other 126 community members from Sinakungan in keeping sacred their traditions and various cultural celebrations.
The long-term partnership with MBFI throughout the years, beginning 2003, is sincerely much appreciated. In the past, MBFI extended funding assistance for Cartwheel's Early Childhood Education Program in Miarayon and Cabanglasan, Bukidnon; and the Young Indigenous Peoples Leaders Program for college students of Pamulaan Center for Indigenous Peoples Education in Mintal, Davao.
Cartwheel is most grateful for the generosity of funding partners like MBFI in their unrelenting support for initiatives that enable indigenous learners to gain access to culturally relevant education.