A Day of Fun and Learning with the Bajau of Lucena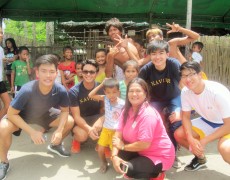 For many urban-dwelling Filipinos, the term Bajau* (or Badjao) calls to mind images of children or youth roaming the streets and begging for alms. But for a group of friends from an exclusive school for boys, they have come to represent more than that.
On June 18, 2016 (Saturday), five senior high school students from Xavier School, led by Sean Cheng, chose to spend the last of their summer weekends with the young Bajau learners and community members of Barangay Dalahican in Lucena, Quezon—one of the sites where Cartwheel Foundation, Inc.'s culture-based early childhood education model is implemented, through the initiative of Payatas Orione Foundation, Inc (PAOFI).
To complement the efforts of Cartwheel and PAOFI, the Xavier School students volunteered to hold an array of activities that emphasized the importance of hygiene and waste management, in a fun and creative way, specifically through a storytelling session and a waste segregation game. The morning activities were capped by a lunch feeding session for the Bajau children.
In the afternoon, educative outdoor games were facilitated by the Xavier School students for the young Bajau learners, after which school supplies were distributed to all who participated. The fun and games were not limited to the children though, as the Xavier School students also engaged in a volleyball match with the Bajau men—brothers and fathers of the young learners—that had the community members gathering together to cheer the players from both teams.
After a day full of activities, laughter and smiles abounded all around. On the part of the Bajau learners and community members, they had a great time getting to know new friends who made learning fun for them. On the part of the five Xavier School students, the Bajau—beyond the stereotypical portrayal of being street beggars—have become people whom they have laughed, played and learned with. Indeed, it was an experience that everyone involved will not soon forget.
———-
*The Bajau, sometimes referred to as the "sea gypsies", are a Moro ethnic group traditionally from the islands of southwestern Mindanao. More than a decade ago, many Bajau families—displaced by war and conflict—fled their original homes to settle in the more peaceful coastal areas of Luzon. At present, some 48 households reside near the port area in Barangay Dalahican, Lucena, Quezon, hoping for a better future for their children through education and other social services.