2016 Commencement Exercises at Pamulaan Center: Manifestations of Learning and Growth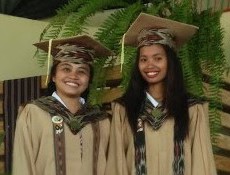 "Milestones are made up not just of academic achievement, but of moments that make manifest their growth in learning, leadership and love for their own indigenous heritage."
The University of Southeastern Philippines-Pamulaan Center for Indigenous Peoples Education (USEP-Pamulaan) held its Commencement Exercises for its pioneer batch of BS Social Entrepreneurship graduates last March 30, 2016 at Mintal, Davao City. Among those present in the celebration are National Commission on Indigenous Peoples (NCIP) Chairperson Atty. Leonor T. Oralde-Quintayo, USEP President Dr. Lourdes C. Generalao, Pamulaan President Mr. Benjamin Abadiano, Indigenous Peoples (IP) Leader Datu Julito Penaso, and representatives from Pamulaan's partner organizations.
Datu Julito Penaso of the Manobo tribe addressed the graduates as the representative of the IP elders and communities. He expressed (in Visayan) that 'one of the dreams of [IP] leaders is that the next generation of all tribes will be well-educated.' He encouraged the indigenous youth to give importance to education, deepen their knowledge of both current and social issues, and defend their rights when it comes to land and property ownership, among others.
Among the 34 graduates of the Social Entrepreneurship program, two young ladies — Merlyn P. Campong and Arjane C. Sotto — are grantees of Cartwheel Foundation's Young Indigenous Peoples (YIP) Leaders Program. Merlyn is from the Arumanen-Manobo tribe of Renibon, Pigcawayan, North Cotabato, while Arjane is from the Talaandig tribe of Miarayon, Talakag, Bukidnon. Both have expressed their desire to give back to their respective communities and the IP sector in the years to come.
Arjane, in particular, was one of Cartwheel's first pre-school learners during its early years of partnership with the Talaandig community of Miarayon. She eventually entered college in Pamulaan Center, where she blossomed into the young leader that she is today. With Arjane receiving a college degree, Cartwheel's story of growth through culturally relevant education has come full circle.
Aside from Arjane, Merlyn, and the Social Entrepreneurship graduates, completers of the ladderized education program in Agricultural Technology were awarded certificates for their achievement in School Year 2015-2016. Nine (9) of Cartwheel's 2nd year YIP grantees were among those recognized for successfully completing the course.
After the graduation ceremony, 11 YIP grantees had a small group sharing with Cartwheel Executive Director Pia Ortiz-Luis and Programs Officer Celia Jurado. Many of the young leaders recounted how they, as students of Pamulaan, grew in confidence and gained a deeper appreciation of their rich cultural heritage, which ultimately drives them to, one day, be of service to their respective communities. They likewise extended their heartfelt gratitude to the many generous individuals and groups who journeyed with them through the years.
For the Pamulaan Graduates and Young IP Leaders, milestones are made up not just of academic achievement, but of moments that make manifest their growth in learning, leadership and love for their own indigenous heritage. May these values shine even brighter as they journey home and give back to their communities.