Art for Aditowa: Art Exchange between AmB and TLC young learners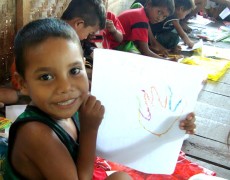 Aditowa in the Bajau Sinama language means 'smile.'
With the opportunity to create art among children and share with many others even from a great distance, there are sure to be many sincere smiles indeed!
In partnership with MAGIS Creative Spaces and The Learning Child School (TLC), Art for Aditowa: Art Exchange was initiated as a joint project with Cartwheel in February 2016. It had TLC pre-school students from Muntinlupa and Angiskul ma Bangka ("Classes in Bancas") Bajau learners from Zamboanga as participants sending art, photos, and video messages to each other. TLC also sent in school supply kits for all the AmB learners, together with the children's artwork.
Art for Aditowa was introduced as a school-wide advocacy and outreach project at TLC where teachers, parents, and all students were involved. Pre-school teachers began by sharing with their respective classes informational background on their Bajau partner community. Details were explained to the parents who were encouraged to send in their school kit donations with supplies that were specifically requested by Cartwheel. The teachers then facilitated the students' creation of artwork which were thoughtfully included in each of the school kits.
The donations and artwork were brought to Zamboanga and turned over to the AmB learners of Masepla Transitory Site in Mampang on March 3. One of the children led in dua or prayer before distribution. Apart from the many young learners, Program Officer Fatima Ahiyal of Ateneo de Zamboanga University-Center for Community Extension Services was also present during the turn-over, together with Bajau teachers Relinda Montimor, Sariba Abdulbasit, Maida Oroc; Executive Director Pia Ortiz-Luis, Programs Officer Celia Jurado, and Education Coordinator Bricks Sintaon of Cartwheel Foundation. Cartwheel Team members explained to the learners where the school supplies were from, sharing a short video of TLC children during art-making and giving of school kits.
On March 4, AmB learners were led by their teachers in making their own artwork for the TLC children as a sign of thanks. Some were singing Bajau songs, reciting rhymes in their language and playing games while waiting for the others to finish. "Bagay," the children kept on repeating—knowing that their artwork would soon be sent to their new bagay or friends.
When the artwork of the Bajau learners were taken to Manila, they too were distributed to their TLC partners. There were photos of the artist for most of the artworks, and a similar video showing the actual distribution of school kits and art-making workshop in Zamboanga was shared with the pre-schoolers during their assembly.
Even with the distance and without face-to-face interaction, the opportunity to reach out through art was an enjoyable learning experience for all children involved. "Art for aditowa" indeed!