Strength Within: Harnessing Tagbanua resiliency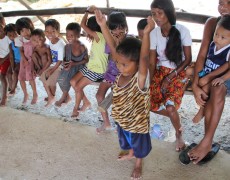 by the Cartwheel Team
"Even as discouraging feelings remain, a deep gratitude for sustained life is expressed by many Tagbanua."
Cartwheel's Project RISE (Re-Igniting Community Strength through Education) aims to nurture the resiliency of the Tagbanua through psychosocial and expressive arts approaches. A series of training workshops have been among efforts to make community members aware of their inner strength to harness in times of stress or trauma. Expressive arts approaches– including song, dance, creation of visual arts with various materials, and body movements – have been particularly helpful as there already exists very rich cultural art expressions among their people.
The latest workshop was run in September 2015, where representatives from Culion's local parish, government and schools learned more about psychosocial integration and shared helpful stress-relieving techniques with community members.
House-to-house visits reveal the deeper feelings behind the Tagbanuas' personal stories. They admit that they naturally felt sadness as their boats were destroyed, their crops uprooted, and other possessions were lost at sea. There has also been a heightened sense of fear and anxiety whenever there are warnings of ominous weather. To a certain extent, this has made them warily take more careful measures: some have rebuilt their homes farther from the shore while many of them quickly gather under sturdier shelter when the rains come.
Engagements with the community members through activities of Project RISE have affirmed that they do have sources of inner strength – these are not taught or easily take form, but have long been engrained in the Tagbanua's indigenous life ways. The community workers' role then, is to help them recognize and consistently harness these strengths. Much of what causes their anxiety goes beyond disasters brought about by changes in weather; there are other deep-seated, shared issues with which many struggle. For a more relevant contribution in working towards psychosocial well-being, it is essential to consider the underlying systems and social structures that affect their everyday lives.
Yet even as discouraging feelings remain, a deep gratitude for sustained life is expressed by many Tagbanua. The gift of safety for their family is among those for which they are most thankful. Helping hands from partners and friends have always been happily welcomed as well. With the recognition of inherent strengths, dialogue is opened up and collaborative work is made possible. Despite all their continuing challenges, ultimately, hope abounds.
—
As of the writing of this report, plans are being drawn up for the integration of psychosocial approaches into the lessons of Tagbanua young learners enrolled in our Early Childhood and Elementary Education Programs in Sitios Alulad and Cagait.