Schoolhouse and Safe Space: Where Bajau learners feel most at home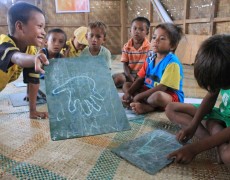 by the Cartwheel Team
"Deepening the Bajau's sense of community and getting them involved significantly contributed in helping learners feel comfortable and free whenever in school."
The Angiskul Ma Bangka ("Classes in Bancas") or AmB Program has been reaching out to the Bajau young learners of Masepla Transitory Site in Barangay Mampang, Zamboanga beginning 2014 with support from funding partners TELUS International Philippines, Karapatan sa Malikhaing Paraan (KaSaMa) and the Spanish Agency for International Development Cooperation (AECID), and in collaboration with local implementing partner Ateneo de Zamboanga-Center for Community Extension Services (ADZU-CCES). Currently, 108 learners are enrolled in the program's second cycle.
During Cartwheel's initial visits, it was apparent how the children were particularly restless and very easily agitated, sometimes even hurting each other over petty quarrels. Inside the classroom though, the young ones seemed to gradually mellow down. They often assumed comfortable positions while working on the floor – stretching, lying down, cross-sitting. Some even fell sound asleep every once in a while. It was an eye-opening realization for the teachers and Cartwheel Team members: more than a learning center, the Bajau classroom was primarily the children's safe space. Here, they are most at ease, while within an area they still struggle to consider their true home.
Far more than merely the physical structure, deepening the Bajau's sense of community and getting them involved significantly contributed in helping learners feel comfortable and free whenever in school.
The AmB learners' parents and community members of Mampang organized a celebration of Eid Adha, celebrated by Muslims all over the world. Their festivities, dubbed as Maglami-lami Kitam ("Let's celebrate"), was held on September 29. The gathering was participated in by more than 150 individuals, including the AmB learners, parents, community leaders and elders. They performed traditional dances such as the igal-igal, pangalay and daling-daling, and also came together for indigenous games such as Kambing Behe, Hundung-hundung Bayla, and Kardang, Buhain Ako.
On December 20 the parents and teachers spearheaded the cultural celebration activity dubbed as Umingat Kitam: A Glimpse of the Bajau Indigenous Knowledge. During the half-day activity, origins of the Bajau ethnic group, as well as their different folklores, were shared with the children.
In response to the request of the Bajau community members for an education initiative for adult learners, the implementation of an Adult Capacity Building Program (ACAP) was proposed. The ACAP classes officially started in October 2015, conducted every Saturday and Sunday, from 1pm to 4pm. A total number of 47 adult learners were officially enrolled as of December 2015. The current curriculum being utilized is based on CCES Functional Literacy Program, but shall go through CFI's recommended process of indigenization, to ensure integration of IP education and peace education principles and approaches.
Angiskul ma Bangka classes are envisioned to be held in a banca or local boat—a familiar element in Bajau culture that captures the "safe space" representation for children in Mampang. Consistent with Article 39 of the U.N. Convention on the Rights of the Child (1990)— which states that "recovery and reintegration takes place in an environment which fosters the health, self-respect and dignity of the child"— holding classes in the boat classroom may help them gain a sense of normalcy and stability in their context of displacement. As of December 2015, Cartwheel has been coordinating the planning and construction of the boat classroom. Its mobility will be ideal when these Bajau families are again able to move back to their original coastal communities.