Helping Hands: Collaboration among the Higaonon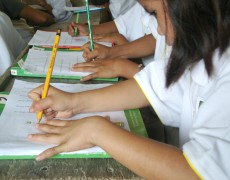 by Klarisse Galido, Gabrielle Diaz, Yna Reyes
"In recognizing how each one can contribute, collaboration is encouraged and a true sense of community-building continues to be nurtured."
The teamwork among the community organizer, teachers, and parents of the Higaonon from Sinakungan, Agusan del Sur gave way to results that directly support the Early Childhood and Elementary Education (ECEE) program in their area. The program is currently in its 7th cycle with a total of 38 learners.
In recognizing how each one can contribute, collaboration has been encouraged and a true sense of community-building continues to be nurtured — all in moving forward for more relevant education for their children.
Devoted teachers and their use of the updated curriculum made way for improved program implementation. The curriculum presently used is written in Binukid, the native tongue of the community. They have also shown innovation in creating learning experiences outside the classroom: they led the students in planting root crops and vegetables around the school in July, they accompanied the learners to participate in various Linggo ng Wika activities in the neighboring sitios of Paga and Canada in August, and organized an outdoor camp for the scouts in October.
The new community organizer who is an indigenous Talaandig from Miarayon, Bukidnon, has shown how a strong leader is instrumental in turning plans into concrete action.  Among the efforts he has spearheaded are the the inventory and arrangement of library books in July, and the formation of working committees among teachers and parents in September.
The parents have sustained support through their active participation for projects that complement the ECEE program. They built a school fence and a small shed atop a hill a few steps from the school as a place for children to practice their reading in September. They have also been able to improve the school garden and pathway. All these contribute to a safer, more holistic learning environment for their young learners.
Elders among the Higaonon tribe continue to dedicate time every Friday afternoon for their weekly mantukaw where specific aspects of their unique heritage is shared with the young learners. Topics in the past months included community-building roles among men and women, traditional dance, wine-making, hunting techniques, and stories from local folklore. Such gatherings are always much appreciated by all those involved – their rich Higaonon culture is celebrated, while there is enjoyable interaction between the community's young and older generations.
Cartwheel is gradually transitioning for complete program turn-over to the community of Sinakungan by the end of school year 2015-2016.