Celebrating Leadership and Solidarity in Davao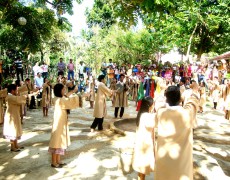 by Rainey Z. Sarmiento
"Many look to the future of IPs with much hope as these youth give back to their communities."
Ten grantees under the Young Indigenous Peoples (YIP) Leaders Program of Cartwheel Foundation were among 33 students who graduated with a degree in Sociology and Anthropology from the University of South Eastern Philippines-Pamulaan Center for IP Education on March 31, 2015.
Nurturing youth leaders
Special Leadership Awards were conferred to three of Cartwheel's YIP grantee-graduates: Dandan Quillano of the Manobo Tribe for Cultural Integrity, Normindo Mosela of the Teduray Tribe for Environmental Concerns, and Dionesio Lumawas Jr. of the Subanen Tribe for Community Service.
This was encouraging as it was affirming: even as students, these IP youth understand their own capacities to take action in their varied fields. Their exposure in Pamulaan particularly, has contributed greatly to their ever-growing sense of social awareness. It is common to hear among many of them that their motivation to finish, and finish well, is never only for their own fulfilment – it transcends even reaching out to their own families, onto their communities to whom they sincerely would want to be of service.
The specific components offered under Pamulaan's program that have helped nurture this desire are Community Service Learning done every year by all students, and the On-the-Job Training experience for those who are graduating. In Cartwheel's interactions with its grantees, they often express how they appreciate such opportunities where theories learned in school are directly applied in actual work for and with partner IP communities. They are able to gain a fuller understanding of the current realities of those who are much like them and work together in identifying innovative ways to address the present issues they face.
Normindo, for example, has been very active in the on-going talks on the passing of the Bangsamoro Basic Law. He speaks on behalf of IP youth and his own Teduray tribe in addressing a greater number of Muslims, many of whom have seemed to overlook considerations on IP rights in the drafting of the said law. Together with Dandan and Dionesio, he has committed to serve as a volunteer under the Companions of Assisi for Peace immediately after graduation.
Gratitude in cultural diversity   
The entire Pamulaan community gathered the night before graduation, in celebrating mass and a Solidarity Night of joyous song, dance, and merry-making at the school's amphitheatre. Representatives from the parents, teachers, and partner organizations were given opportunity to congratulate the graduates with their personal messages. Students, in turn, expressed their sincerest thanks. Other groups shared cultural performances from their own tribes and all attendees joined in the community dance towards the end.
Even as this has always been a practice at Pamulaan, it never seems to lose its relevance. Gathering in one circle, showing gratitude in words and music, recognizing each of the tribes represented by the students – all these become means to celebrate their shared and diverse cultures as IPs. This particular get-together though, took on more meaning as family members of the graduates were also present to join in the festivities.
It was heartening to hear from the students and their families. Between the repeated thank you's, they told of how the triumph of graduating was borne from the combined efforts of so many: their families, their endorsing and sponsoring organizations, their teachers, their communities. Gratitude shone in their songs and jubilant dancing too, as an expression deep and true joy.
With the values of leadership and solidarity imbibed within the Pamulaan graduates early on, many look to the future of IPs with much hope as these youth journey back home and ultimately give back to their communities.