Valuing Education in Agusan del Sur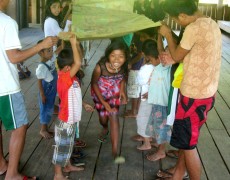 by Kristine Gamban
 "The families of learners expressed their appreciation for all the teachers have done and continue to do." 
In April 2015, Cartwheel Programs Officer Celia Jurado and Education Coordinator Bricks Sintaon visited Barangay Sinakungan in Esperanza, Agusan del Sur, where the Early Childhood and Elementary Education (ECEE) Program for Higaonon tribe partners is implemented.  Now on its sixth program cycle, Cartwheel is preparing to completely turn-over the program to the community by next school year 2016-2017.
Teachers' dedication to the work
 Celia and Bricks met with four Higaonon teachers to assess the program and evaluate the past school year 2014-2015. One of the feedback highlights was how the community members have become more conscious in choosing farming areas situated nearer the school, so that their children would not have to travel too far or be away for too long.  This adjustment also had an impact on the children's overall performance, considering the cut in their travel time to and from school.
However, the teachers related, that absenteeism among the learners still remains to be a challenge.
In response to this, it was amazing for our Cartwheel Team to hear about how the teachers would go the extra mile by visiting the homes of their students to check on them.  They also constantly reminded the children and their families of how important it was for them to regularly attend classes.
Two among the teachers from last school year decided to continue their studies. With support from Cartwheel, Aljun Lenario and Ricman Lidanhug are now enrolled as freshmen in Agusan del Sur State College of Agriculture and Technology. They say their main motivation is to go back and teach again once they finish. They realize the value in Higaonon teaching their fellow Higaonon, and being of service to those from the same tribe.
Community growth and awareness
In a separate meeting, Celia and Bricks joined the gathering of the community members to get their feedback on the past school year as well.  The families of the learners had the chance to express their appreciation for all that the teachers have done and continue to do for their children.
A growing awareness of the process in linking up with other groups and making effort towards community organization is already very apparent in Cartwheel's Higaonon partners. They understand that Cartwheel will soon be turning over the existing programs and care to know about the ways by which the Department of Education may be involved.  What has yet to be learned by most of them are the ways to maximize their own resources which are available within their community, without having to depend too much on assistance from outside groups.
One of the highlights of this exchange was finding out how the parents and other adults show their support by being active in their practice of pahina – or maintaining order and cleanliness around their school. This shows the true spirit of community that is present in the Higaonon tribe.  The families present also related how they valued being consulted about the plans and initiatives for the program.  It affirmed the significance of their roles in contributing to their children's education.
The unity among all Higaonon in Sinakungan seems to be very strong, especially in the way they have maintained their cultural customs and traditions. This is encouraging; one sees how they value working, learning, and growing together as they are always made to gather by their communal practice of said rituals.
The dedication to what is uniquely theirs as Higaonon is in keeping the promise they made to their elder, Amba, who entrusted to the community the sacred grounds of the entire tribe. This sense of oneness may be seen in their involvement in school, but also goes beyond mere participation. In sharing the same values as Higaonon, there is a similar mindset among many of them and so too is there a shared vision for what their community may yet become.
While the parents and adults were having their assembly, the Cartwheel members gathered the ECEE program learners separately and engaged them in various expressive arts activities.  It was a joy to see the children having fun with various coloring materials, putting together their art pieces and doing body movements to freely express themselves.
The general conduct of the learners has consistently been most impressive. Very seldom are any of them rowdy or act in ways that distract others in class. Most of them are well-behaved and are able to follow instructions most easily. They seem to have a general feeling of excitement for the varied activities done with the teacher – whether in their classrooms or in their common tribal house. This shared attitude among them is taken as their own means of showing how much they appreciate having teachers around, seldom taking for granted the opportunity to learn in school whenever they are able.