Building Capacity and Community in Zamboanga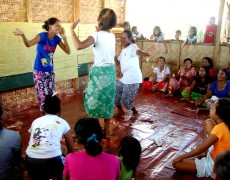 by Anna Dominique Esmeralda
 "Educating children is a partnership and community effort." 
Last January 20-24, 2015, team members of Cartwheel Foundation, Inc. returned to Barangay Mampang, Zamboanga to conduct teachers' training as well as culture and values profiling with partner teachers and members of the Bajau community. These activities were met with a positive response from the said participants.
 Teachers' Training Sessions
Cartwheel Education Coordinator Bricks Sintaon facilitated the teachers' training sessions at the Ateneo de Zamboanga University (ADZU). Relinda Montimor and Sariba Abdulbasit, Bajau teachers of Cartwheel's Angiskul ma Bangka (AMB) or "Classes in Bancas" Early Childhood Education program, were the main attendees. Teacher Relinda handles two sets of two-hour classes in the morning, with students aged three to five years old, while Teacher Sariba is in charge of the afternoon classes where the older kids attend.
The teachers' training program was designed to incorporate technical knowledge with practical knowledge. Not only did the program discuss the basics of Indigenous Peoples' Education (IPEd), classroom management, and indigenous instructional materials development, but it also included sessions on cultural appreciation. This proved to be an effective methodology, and three observations from the program are worth noting. These include teachers presenting themselves better, sessions evoking certain emotions, and participants showing overall involvement.
For the principal observation, the teachers exuded an aura of confidence. This was a far cry from their timid disposition from a few months back, and Cartwheel team members were delighted to witness this positive change in their behavior. Also notable is how the teachers expressed sympathy and joy, as evoked by particular activities during the training. In one session, they viewed a short documentary that featured Bajau families who migrated to Lucena, Quezon. They were brought to tears having witnessed their fellow men forced to leave their homes, afraid of assaults by outside groups.
Another session introduced them to other ethnic groups around the Philippines, and this was a truly enjoyable experience for the participants. They showed great interest in knowing the similarities and differences of the Bajau with other ethnicities. Finally, the teachers displayed willingness to participate throughout the duration of the program. The teachers were actively involved overall, but what stood out was their eagerness to learn the orders set by the Department of Education (DepEd) regarding the practice of IPEd. They wanted to learn as much of it, from the required standards to its implementation.
Establishing connections
Several lessons can be drawn from this experience. For one, when it comes to character development, some traits take time to acquire. Confidence, for instance, can neither be taught nor imposed. Teachers gain confidence in their craft through experience. Their initial shyness may have been rooted on their limited ability to express themselves, as well as their default reaction to change and the unfamiliar.
In terms of program design, it is always ideal to incorporate what is important to the community—news they otherwise would not have access to, and skills they can apply to their work and family life, among others. Though customization is highly important in the material provided, the teachers also appreciate learning of the general picture and how they fit into that. This is apparent in their keenness to learn about the national government's benchmarks on IPEd.
On a similar note, in viewing the documentary and discovering other indigenous groups, the teachers were shown a bigger context. This revealed how they value a sense of kinship. They were pleased to learn they are part of a greater whole; they belong to a big and diverse community of Filipino Indigenous Peoples. This reminded them how valuable it is to preserve their indigenous culture, and they appreciated the awareness that they are not alone in their struggles. They also identified their differences from the other groups and recognized what sets them apart as Bajau. Ultimately, by being exposed to other cultures, the teachers deepened their understanding and appreciation for their own.
Culture and Values Profiling Workshop
Cartwheel Programs Officer Celia Jurado led the culture and values profiling workshop where at least 30 community members, comprised of learners' parents and other elders, gathered in their common area at Mampang. As with all of Cartwheel's interventions, the workshops were contextualized and localized. Fatima Ahiyal of Cartwheel's implementing partner, ADZU-Center for Community Extension Services (CCES), helped translate discussion points to their native Tausug. The workshop showed how the community of Mampang valued their culture, their educators, and Cartwheel's intervention. The facilitators remarked that the participants were enthusiastic, respectful, and committed.
The community noticeably interacted with openness and enthusiasm. They did not hold back in voicing their opinions and telling stories of their culture to Cartwheel and ADZU-CCES team members. With much gusto, they shared their knowledge of practices they have preserved from their unique culture as indigenous Bajau. The community also held the teachers in high esteem. This has been observed since a few months back, in the way they encourage their children to attend classes regularly. This has brought positive results as records show that only about three of 96 students miss school each day.
Lastly, the community showed commitment to the workshops as few participants gave excuses to leave in between the two-day activity. Moreover, the AMB learners' parents have continually shown their commitment to the feeding component of the education program, and for this they were given due recognition.
Committing the community
This experience also provides several insights. First of these insights is that educating children is a partnership and community effort.  As the saying goes, "It takes a village to raise a child." Fortunately, the workshops reflect how the parents, teachers, and the rest of the community of Barangay Mampang understand their specific roles. With awareness of such roles come a better sense of responsibility and ownership.
This experience also demonstrates that the community is proud of their unique Bajau culture and values. As the knowledge sharing activity suggests, they appreciate being given a platform to express themselves, their sentiments, and opinions. Lastly, to completely involve the community, it is ideal to recognize their efforts, strengthen their capacities, remind them of their roles, and provide constructive feedback.
Cartwheel's weeklong session in Barangay Mampang provided the necessary training and profiling for the teachers and the community members while reinforcing their values, love for their culture, and sense of kinship. As a result, the Bajau community responded in the most promising way.