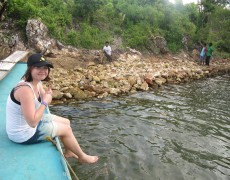 Katrise Velhagen of MAGIS Creative Spaces recounts how her work as videographer for the activities last August 15-17, 2014 involving Tagbanua music-makers and Cultures in Harmony (CiH) musicians from the USA becomes an experience of joy and healing.

This experience is both having me invest both my heart and my hands. I have not held a camera in a while. But it still feels familiar. Instinctively, I still know how to look through a lens and it feels like a part of my arm after years of not having to do video work.
I was asked by my boss to document a special exchange in the islands of Culion, Palawan as part of the psycho-social initiatives we have in MAGIS. So I packed my gear and flew to Busuanga, Palawan, took a boat to Culion and eventually, another boat to the different islands near Culion.
My role in the exchange was to capture the entire experience on film so we can have something on hand for our portfolio as learning material, as well as footage for a culminating activity a few days after the trip.
Having some background in psycho-social work, especially through the expressive arts, coming to this trip gave me context on how cultural exchange through music would leave an impact. In the light of the Haiyan Calamity, the ache and the need for healing and inner health is profound.
I remember one of the first times that I shifted from being the videographer to the participant. The team of musicians involved with the cultural exchange, who were made up of the members of Cultures in Harmony, an organization from the US and the musicians from the Tagbanua community and the different communities of the Culion islands, were invited to play music in the invalid leprosy ward in Culion. No cameras were allowed so I was forced to not have a camera in my hands. It felt like I had to separate from my instrument. But it was significant nonetheless because my eyes were not on some small screen but on the live picture.
As the team started with their usual program, I set my eyes on the people from the ward – the patients, some who had some limbs amputated due to their illness and how they had survived, the hospital workers and helpers, nurses and other caretakers. Usually when I film, I love to capture the raw expressions of people. And what I saw without my camera made me truly see. I saw the rooms and the facilities, how it needed a new coat of paint, some better furniture or fixtures. I saw that it wasn't first class, but it was manageable and the caregivers were still able to care of these patients with the few that they had.
The musicians, both American and from Culion, started to play a local folk song. One of the old ladies stood up and danced with the singer. She was making gestures to everyone saying "come closer" or "dance with me".
The singer, who was from the Culion communities, was gracious enough to dance along even if he was obviously shy. The lady wasn't shy, I think it was because they were of kin. She said so herself when we left the ward.
But watching her in that moment, glimpsing at her and catching her smile every now and then made me more attuned to my own inner self.
Seeing her stand up and dance, and really looking at her, it made me see what she was doing. Looking at the facilities of where she worked, it made me wonder how often she got to dance and hear music from her childhood. It looked like it had also been awhile since she danced. She looked free. She is free.
I guess she felt free as she moved and swayed and sang along. Familiarizing myself with the room, it made me wonder about my own "inner sickness" and my own feelings of invalidity and incapability that left me in "crutches".
Looking at the woman, I wanted what she had at that moment, of what dance and song was doing for her. I wanted freedom from the internal struggle that I felt from a trauma incident that happened 2 years ago. Makes sense why I took this job. I did it hoping I could find healing too.
I almost cried watching the woman dance. Because she shared her freedom with us. Watching her dance made me feel that I could dance too.
This is what Cultures in Harmony does. This is what Cartwheel Foundation, Inc. brings together. This is what MAGIS advocates for.
I was a recipient of healing because this time, I wasn't capturing anything on film. I was just there, taking in the healing of music and song from hearts all around the world who want to share it.
I came home with an unforgettable experience – a learning and healing one. One I hope to share through the footage and through whatever simple words I could offer.
Thank you Cartwheel and thank you, Cultures in Harmony for the gift of your work.