Town & Country Philippines features Cartwheel!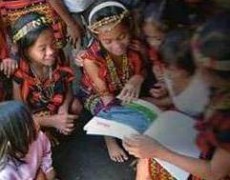 Cartwheel Foundation, Inc. has been featured in the March 2014 issue of Town & Country Philippines for its work with Filipino Indigenous Peoples!
The article, entitled "One Tribe: Cartwheel Foundation wants to empower indigenous communities through custom education," may be found in the magazine's page on Giving.
Indeed, we are one tribe in keeping sacred our unique heritage and building each other up in this way.
Read on…
---
ONE TRIBE
Cartwheel Foundation wants to empower indigenous communities through custom education.
by Jacs T. Sampayan for Town and Country Philippines, March 2014
When she was at a crossroads in her life, Gina Alfonso flew to Miarayon, Bukidnon, to seek guidance from Jesuit friends who where there. During her stay she was introduced to the Tala-andig, an indigenous farming community. The parish asked Alfonso, who had a background in arts and education, if she could come up with something for the Tala-andig children. She organized arts and music sessions with the children, which then led to the foundation of a pre-school within the area, and subsequently, the Cartwheel Foundation.
"So it was in this way that our advocacy of 'bringing education to where it is needed the most began," says Rainey Sarmiento, resource development officer for the foundation, "It came with the realization that many other indigenous peoples (IP) communities were like the Tala-andig –located in far -flung areas, rooted in their traditional way of life, yet yearning for opportunities to learn."
Cartwheel works hand-in-hand with indigenous communities to create educational programs that will enrich them while retaining their cultural identity. "Everything we introduced is rooted in the ways of our specific partner communities. It is in this way that their traditions are kept sacred, and are regarded with much importance even by younger generations," Sarmiento says. "Literacy and various practical life skills are taught to build capable, productive community members."
Cartwheel tailor fits programs according to the communities' expressed need. For example, different modules have been introduced to the three communities they currently work with Early Childhood and Adult Capability Building programs for the Tagbanua of Culion, Palawan, For early Childhood and Adult Elementary Education for the Higaonon in Sinakungan, Agusan Del Sur, and Teachers Training and Community Development for the Badjao who migrated to the seaside community of Lucena, Quezon. This year, Cartwheel is looking at working with the Badjao displaced by the siege in Zamboanga.
Apart from these educational programs, Cartwheel also takes care of 20 youths through its young Indigenous Peoples' college scholarship program. This allows the students to earn a degree at the Pamulaan Center for Indigenous Peoples' Education within the University of Southeastern Philippines, and come back to their respective communities to apply their acquired knowledge.
Seeing so many instances where communities apply what they've learned only reinforces the message that Cartwheel wants to promote. "We saw that it is possible for communities to act on their own. That we do not come in as development workers simply to give," Sarmiento says. "Rather, we show them that they too have skills, resources, and riches that are uniquely theirs."