Cartwheel Comes Full Circle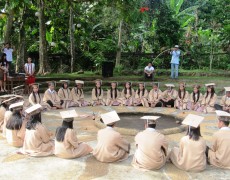 Gina Alfonso, Founder of Cartwheel Foundation, shares how Pamulaan Center's 2014 Graduation Ceremonies truly became a celebration of the dynamic cycle of giving and receiving, in more ways than one.

The commencement exercises started with all graduates in circle formation, witnessing a fitting ritual of gratitude by a Talaandig elder who facilitated the pouring on each graduate, blessings from the heavens. Together, some members of the Cartwheel Team celebrated with all of the Pamulaan community, represented by over 25 tribal communities in the Philippines. Pia Ortiz-Luis (Cartwheel Executive Director), Celia Jurado (Programs Officer) and Bricks Sintaon (former Cartwheel scholar from the Talaandig Community and now Education Coordinator) were particularly thrilled to honor the 10 Cartwheel college scholars who just completed four-year degrees in Education (with support from their generous and committed sponsors).
It was a festive day; certainly a time for thanksgiving and celebration. They thanked us for our presence and support; we reminded them that the thanks should first and foremost come from us–for giving us the chance to learn from and share in their journey!
And just when I thought my heart had its fill of blessings for the day, I was greeted by something completely unexpected. Five non-graduates, some of whom are current college scholars of Cartwheel, introduced themselves as students from that first pre-school class in Bukidnon 15 years ago. I could hardly contain my shock and joy; I could hardly believe I was in the company of these kids whom I had known as toddlers, but whom I had lost track of all these years! Literally staring me in the face, ripe and ready for life, were the fruits of the birthing process I shared with their elders so many years back! It was absolutely priceless. I was bursting with excitement and pride. How true it is that experiencing the joys of parenting can come in so many different forms; just as coming to have children can happen in multiple ways.
 Through what has been just a few short years of half my lifetime, I have always kept these kids in heart and mind; hoping they are doing well and considering them my own, despite the distance and time apart. The other day, I finally had the chance to let them know this, and to officially ask them to adopt me as one among their parents as well. And it was my greatest joy to hear see them respond with big, bright, beautiful smiles, and a hearty YES! Their answer, little do they know, is a gift I receive with deep gratitude.
Their one yes completely affirms the journey of the past decade and a half. The one yes, along with the image of their big bright smiles, is all the inspiration we need, as their partner parents, to continue spiraling forward; to staying committed, with a steadfast love, to this incredibly fruitful dynamic cycle of giving and receiving we have all these years called a Cartwheel.