Simple Starts, Grand Surprises: A Volunteer's Story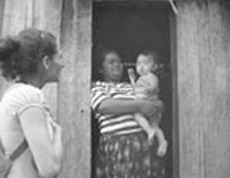 Until I had begun my work with Cartwheel Foundation, I didn't exactly know what a simple Internet search would really offer me.
I had a good feeling about my one-year move to the Philippines. Having traveled the country in 2005, I promised myself I would return to expand on my skills set and knowledge of the 'third world' and minority groups. So, the Philippines it was again!
Once I arrived in December 2006, I searched the Internet looking for an NGO that would be willing to take me on during my stay. When I came across Cartwheel Foundation, I had a really good feeling about it. So I emailed Rojean Caharian, the Executive Director, went to the office and before I knew it, was offered a Resource Development Officer position. I was truly grateful for Cartwheel's generous offer, but little did I know how grateful I would end up being.
Rojean Caharian, Lilet Centeno- Head of Administration and Coleen Ramirez- Head of Linkages and Networking, all welcomed me to Cartwheel's office by going out of their way to make me feel accepted and comfortable. For this, I felt so grateful. Rojean invited me to travel with her to visit one of Cartwheel's partner communities in Nueva Ecija. So we took a 5- hour bus ride and trekked for 1.5 hours in the blistering heat, crossing the river 7 times—4 times through the waters and 3 times by hanging bridges. Staying true to Cartwheel's roots, the staff often take on the large feat of reaching Indigenous Peoples—they sure do bring education where it's needed most and I got to be a part of this!
I was given the opportunity to travel places far and wide including Palawan and Mindanao. I was really amazed to meet so many Indigenous Peoples wishing that their children would have the same education opportunities as most other Filipinos. Thankfully, this is what Cartwheel does. But not only does Cartwheel offer educational opportunities, it offers culturally relevant and appropriate education with the ultimate goal of creating leaders out of these children. That way they can one day represent and lead their own people. These innovative and progressive concepts encouraged me to think outside the box of common rhetoric about the 'backwardness' of 'the third world'.
Recently, I found my biggest challenge facing me. I took on the role of facilitator for Cartwheel's Music and Art Education Program in Miarayon, Bukidnon in Mindanao. I was to ensure that the program ran smoothly and expected outcomes were reached—all the time keeping in mind the aim: 'preservation of Tala-andig cultural heritage'. With all the challenges I faced, I am so grateful for the belief that Rojean and Cartwheel had in me to fulfill this role. It was so exciting for me, having wanted to travel to Mindanao ever since my first trip to the Philippines. Finally, I was there. But not only that, I was working with the Tala-andig youth and MFTP (Music For The People) members. I became a witness to great, creative relationships being formed between the two groups and most importantly to the cultural pride and creativity of the Tala-andig youth of Miarayon. Hearing comments from the Tala-andig youth such as "I feel proud na proud to be Tala-andig" and "now I realize the importance of keeping Tala-andig music alive", I knew that I was part of a beneficial and progressive community development project.
Just as Cartwheel offers educational opportunities to Indigenous Peoples of the Philippines, it offered me the opportunity to expand my knowledge of indigenous issues by seeing things first hand. As mentioned, I would never have thought a simple Internet search would open one of the biggest doors of opportunity in my life so far.
Thank you Cartwheel, I am forever grateful
Born in Australia, Katherine is a Development Studies graduate of La Trobe University, Melbourne. Before moving to the Philippines, she volunteered with Burmese refugees on the Thailand/Burma border and worked as a Youth Worker with disabled youth and young adults in Melbourne and Saigon, Vietnam.